Wednesday, June 10, 2015
Madison Heights, MI – Battery specialty store Battery Giant has expanded their presence in Florida with the opening of two new store locations in Miami Lakes and Orlando. The franchised owned stores join the Cape Coral, FL location in the serving battery needs of all sizes for the residents and businesses of Florida. The stores are part of an expanding franchise network of battery specialty stores that are filling the needs of battery powered society.
A specialty store that sells and distributes batteries of all sizes, Battery Giant powers devices from hearing aids to forklifts and even large reserve power battery rooms. Their customers range from retail walk-in customers, to large commercial accounts. "We carry batteries that power all of the mobile devices of today's world, to the classic lead acid batteries used in cars, boats and motorcycles," states Greg Danziger, President of Battery Giant Franchise, LLC. "If you need a battery for anything, chances are you can find it at a Battery Giant."
Battery Giant is also an authorized Trojan Battery dealer, which is a leading brand in deep cycle / golf cart batteries. They provide full life cycle services as a free recycling center for used batteries as well, keeping harsh chemicals out of landfills and incinerators. Every store is equipped with a Battery Recycling Center.
Battery Giant is actively seeking new franchise owners. "Great things are happening at Battery Giant," said Greg Danziger, President. "The battery distribution industry is an $88 billion business, and the market is continually growing."
About Battery Giant
Headquartered in Madison Heights, Michigan, the company currently operates 28 retail locations throughout the United States, Puerto Rico and Panama. They carry a wide range of replacement batteries and battery products, plus offer an energizing opportunity for franchise ownership in the ever- expanding battery market. With a focus on the environment, Battery Giant helps consumers recycle their batteries and old cell phones by conveniently offering free recycling at each of their franchise store locations. They are proud to provide their customers with the most innovative, cost-effective, and knowledgeable solutions available along with friendly customer service.
For more information about Battery Giant, battery recycling, green power solutions, or franchise opportunities, visit their website at http://www.batterygiant.com, or contact Greg Danziger, President, at 248-414-1884.
Wednesday, January 21, 2015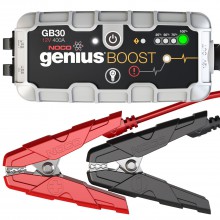 This new portable lithium jump starter is so ultra-compact and lightweight that it easily fits in the glove box of most cars. The GB30 Boost Charger is able to fully jump start any size vehicle up to 20 times off of a single charge, providing a serious level of security for even the longest road trips. The GB30 is powered by a high-density NOCO element Lithium-Ion battery that can hold its charge up to one year, and can handle over 1,000 cycles.
The GB30 Boost is designed for single battery engines up to 6 Liters (6000 cc), but is strong enough for almost all vehicles, gas or diesel. You can even easily jump start lawn mowers and other equipment.
Spark-proof technology ensures that common mistakes such as reverse polarity (or touching the leads together) yields no damage or sparks at all, making the GB30 virtually fault-proof. This ultra-safe jump starter is designed for use by all types of drivers – from skilled mechanics to those with little or no technical savvy. You will be able to jump start your batteries worry free.
When it's not being used to jump a battery, the GB30 can be used to charge a phone, laptop, camera, or tablet through its onboard USB port. You can also recharge the GB30 while in your car using the included 12V charger.
Finally, the Genius Boost GB30 also doubles as a seven-mode Ultra Bright LED flashlight that is capable of sending out SOS and emergency strobes.
If you need a jump starter, look no further than the Genius Boost Lithium Jumpstart. Safe yet powerful, this compact device has it all. Stop in your local Battery Giant today for more information, and remember we also provide free battery testing!
Thursday, January 8, 2015
Winter is upon us! If you haven't already begun the process of storing the batteries used in recreational vehicles, now is the time!
Most vehicles use some form of a lead acid battery to start the engine. When these starting batteries (car, boat or motorcycle batteries) are not used for an extended period of time, they begin to self-discharge. This may lead to sulfation, an internal breakdown of the battery. Sulfation will then lead to permanent damage and battery failure. If you don't use it, you lose it.
There are several factors that go into properly storing your battery.
Avoid extreme temperatures. A discharged battery can freeze and become permanently damaged. Freezing of even a fully charged battery can happen anywhere between -19 degrees and -98 degrees Fahrenheit. Temperatures above 80 degrees can accelerate the process of self-discharge. Temperatures above 110 degrees can cause the battery to swell and become permanently damaged.
When storing your battery, it is important to completely charge the battery. Storing your battery at a discharged state can result in shortened battery life. While your battery is being stored, periodically measure the voltage of your battery. A 12-volt battery should be kept at a voltage of 12.5 or higher. It is best to purchase a "smart" charger that will constantly monitor the battery's voltage level and will apply a charge when necessary to keep your battery at a proper storage voltage. This will help your battery to retain its capacity to store energy.
If your battery has been stored for some time without being connected to a smart charger and is no longer holding a charge, then it may be time to replace your battery. Battery Giant has a large selection of starting batteries for all of your vehicle needs. Visit your nearest Battery Giant and speak with one of our battery application specialists today!
Tuesday, December 2, 2014
Winter is here, and your car battery knows it. Dead auto batteries are very common this time of year. As temperatures continue to drop, turning over your engine can take twice as much current and can significantly decrease battery output. According to AAA's Automotive Research Center your cars battery loses 35% of its power at 32°F and 60% of its power at 0°F. These statistics can easily impair a quality battery and drastically discharge a subpar battery.
Inside the plastic box of your battery are plates of materials like lead and lead dioxide. The plates are suspended in a mix of water and sulfuric acid, which forms an electrolytic solution. This solution allows electrons to flow between the plates -- that flow of electrons is essentially electricity. This chemical reaction slows down during the winter and fewer electrons are produced. For that reason, the starter motor has less energy which causes the engine to crank slowly.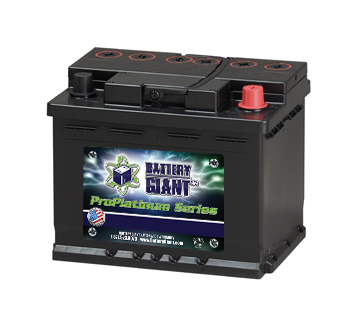 The life expectancy of your battery is less than four years under normal conditions. These normal conditions include:
The battery goes through full charge cycles
The battery isn't subject to extreme temperatures
The battery is attached to a reliable and consistent charging system
You're not using your cars battery to charge your accessories (phone, GPS, iPod, exc.)
Most consumers don't meet these "normal" conditions and could notice a discharge in their batteries sooner. There are several warning signs that could indicate a battery breakdown such as: If you hear a grinding or clicking sound when you turn on the ignition, your vehicle cranks slowly when attempting to start, and your headlights dim when idling but brighten when the engine is revved. These are telltale signs of a battery problem and require immediate attention.
How can you prepare for a battery breakdown? Start by getting your battery tested. It is quick and easy! In less than 5 minutes a trained technician will check the charging system, voltage output and charging rate of your battery. Using a digital display, your battery check will provide a clear indication as to the condition of your battery. A second way to be prepared is to consider keeping a booster pack in your car. In case of a dead battery, a booster pack can jump start your car in seconds. Lastly, it is critical to unplug your cellphone and other electronic devices when you don't need them, especially when the car is not running. When your car is not running, your battery continues to supply power to these devices. Overtime its capacity can decrease from the effect of your devices drawing current from it.
Keep these tips in mind during the winter season, but when all else fails and it's time for a new car battery come see us at Battery Giant. We are the battery experts and offer completive pricing on a large selection of automotive batteries.
Friday, November 21, 2014
Retail Battery Store, Battery Giant, has opened its 6th Michigan store in Detroit's Harbortown area on Jefferson. The Detroit store joins other Michigan Battery Giant locations in Macomb, Warren, Rochester Hills, Southfield and East Lansing. The franchise owned store is part of a growing network of 27 locations throughout the United States, Puerto Rico and Panama for the Madison Heights, Michigan based retail franchise.
Battery Giant is a specialty store that sells and distributes batteries of all sizes, powering devices from hearing aids to forklifts. Their customers range from retail walk-in customers, to large commercial accounts. "In a world of electronic devices which take all different types of batteries, consumers need a place to turn to and be confident that they are getting what they need," stated store owner Chaundra Haynes. Every Battery Giant store is also equipped with a Tech Center where they can test, rebuild and change batteries in devices that many people don't realize can be fixed.
The city of Detroit has seen an increase in development through major investors like Dan Gilbert and Mike Ilitch. Other businesses have taken note, and are investing in the city as well. Battery Giant hopes to support the influx of young, tech gadget using talent that recent new development has brought into the city. "My commitment to Detroit has been everlasting and when the opportunity arose with Battery Giant, it only made sense to contribute to the existing energy that's always been in Detroit, and is getting more powerful every day" Haynes said. "I'm proud that I can offer a much needed product and service to my home city of Detroit and be a part of all the growing synergies."
The average household has an average 28 battery powered devices and Battery Giant fills a need by supplying often hard to find replacement batteries in addition to standard household and automotive batteries. They also provide full life cycle services as a free recycling center for used batteries as well, keeping harsh chemicals out of landfills and incinerators.