Introducing the new GB30 Genius Boost Charger - Safely Jump Start A Dead Battery in Seconds!
Wednesday, January 21, 2015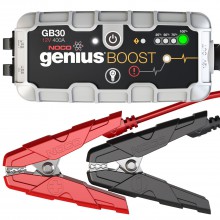 This new portable lithium jump starter is so ultra-compact and lightweight that it easily fits in the glove box of most cars. The GB30 Boost Charger is able to fully jump start any size vehicle up to 20 times off of a single charge, providing a serious level of security for even the longest road trips. The GB30 is powered by a high-density NOCO element Lithium-Ion battery that can hold its charge up to one year, and can handle over 1,000 cycles.
The GB30 Boost is designed for single battery engines up to 6 Liters (6000 cc), but is strong enough for almost all vehicles, gas or diesel. You can even easily jump start lawn mowers and other equipment.
Spark-proof technology ensures that common mistakes such as reverse polarity (or touching the leads together) yields no damage or sparks at all, making the GB30 virtually fault-proof. This ultra-safe jump starter is designed for use by all types of drivers – from skilled mechanics to those with little or no technical savvy. You will be able to jump start your batteries worry free.
When it's not being used to jump a battery, the GB30 can be used to charge a phone, laptop, camera, or tablet through its onboard USB port. You can also recharge the GB30 while in your car using the included 12V charger.
Finally, the Genius Boost GB30 also doubles as a seven-mode Ultra Bright LED flashlight that is capable of sending out SOS and emergency strobes.
If you need a jump starter, look no further than the Genius Boost Lithium Jumpstart. Safe yet powerful, this compact device has it all. Stop in your local Battery Giant today for more information, and remember we also provide free battery testing!