Home
> Portable Devices Battery Packs
Most Battery Packs For Portable Devices Are Designed Specifically To The Manufacturer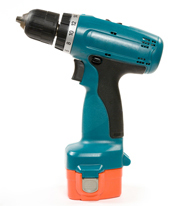 Most manufacturers of cell phones, laptops and cameras design and develop their own battery packs. A model change often results in a redesigned battery. The typical contact arrangements of cell phone and
digital camera batteries
include: battery positive, negative and temperature sensor. Additional contacts may serve as control switch or battery type identifier. "Smart" batteries, like the
Motorola cell phone battery
and
Samsung cell phone battery
, have extra contacts to provide state-of-charge indication and other information. Recall that there are no norms and standards for these batteries. Each manufacturer has its own unique design.
In the 1990s, the Smart Battery System (SBS) forum made a concerted effort to standardize certain types of batteries, such as
laptop batteries
, survey equipment batteries, and
medical equipment batteries
. Beside physical size, these batteries ran on a standard SMBus protocol. With miniaturizing and securing a lucrative battery replacement market, laptop manufacturers went their own way. The SMBus batteries are still widely used today for specialty instruments.
Recall that typical
battery packs
have the inherit problem of not being able to communicate with the user, as neither weight, color, nor size provides an indication of the battery's state-of-charge (SoC) and state-of-health (SoH). The user is at the mercy of the battery. Today's rechargeable "smart" batteries, however, are equipped with a microchip, and are able to communicate with both the charger and user.
There are several types of 'smart' batteries, each offering different complexities and costs. We have determined that the SMBus is the most complete of all of these smart battery systems. It represents a large effort from the electronics industry to standardize on one communications protocol and one set of data. The Duracell/Intel SBS, which is in use today, was standardized in 1993. It is a two-wire interface system consisting of separate lines for the data and clock. The objective behind the SMBus battery is to remove the charge control from the charger and assign it to the battery. With a true SMBus system, the battery becomes the master and the charger is a servant that must follow the dictates of the battery.
Find the optimal battery that is right for you. Visit
www.batterygiant.com
to find the best selection of long-lasting
cellular phone batteries
and
video camera batteries
available. Be sure to join the discussions at the BatteryGiant
Facebook page
to discover energy saving battery tips to save you money.